Applied Research Consortium
November 15, 2021
ARC Welcomes New Member Firm 7 Directions
Research will explore culturally-driven, place-based design and construction practices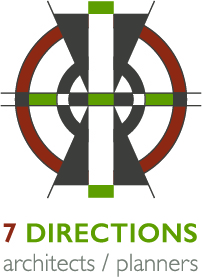 The Applied Research Consortium (ARC) is pleased to welcome its sixth and newest member firm: 7 Directions Architects/Planners, led by Daniel J. Glenn, AIA, an MIT-educated, licensed architect from the Crow Tribe of Montana. The firm specializes in designing contemporary Native American architecture and working with diverse communities, including Latino, African American, and Asian American cultures.
The firm became connected to ARC through Bobbie Koch, Associate AIA & AICAE,  an architectural designer at 7 Directions. Koch is a citizen of the Rosebud Sioux Tribe (Sicangu Lakota) and is earning her MS in Architecture at the UW. Since starting her internship with 7 Directions last year, she has been involved in several master planning and residential design projects with her Tribal community.
"We are very excited to have Bobbie continue her work with her community through our firm, both with her research work with ARC and our ongoing projects," said Glenn.  "She is an invaluable part of the 7 Directions team and an inspiration to all of us in her dedication to Indigenous design and practice."
Koch's ARC applied research project aims to answer the question how can the Sicangu Lakota Oyate return to culturally-driven, place-based material practices to design and construct homes in a regenerative way that follows ancestral values? Her research objective is to develop a place-based, culturally-driven framework that can be used to analyze and evaluate regenerative material practices in design and construction within Sicangu Lakota homelands. She will interview industry professionals and local knowledge holders, and hopes to directly contribute to current development projects underway in her Tribal community.
"One of the questions that constantly arises during our client meetings is how can our design and construction practices also be regenerative? This is a question that has resonated with me and one that I am keenly interested in exploring during this ARC fellowship year," wrote Koch in her statement of interest.
"Regenerative has been loosely described as something that creates more life, where life isn't focused just on our human relatives but our non-human relations, too — the animals, the plants, the earth, the sky, the stars," she wrote. "As Lakota peoples, if we are going to return to our time-immemorial practices and ancestral values, then creating more life — being regenerative — in our places, in our communities, and in our daily lives needs to be brought to the forefront."
Koch's project advisors are Daniel J. Glenn at 7 Directions, and community member Mike Prate. Koch expects to complete both her MArch and her MS in Architectural History and Theory in 2022.