Applied Research Consortium
March 30, 2021
ARC forms its first interdisciplinary research team
Cross-college collaboration explores carbon implications of mass timber supply chains
The ARC program was created to bring together built environment firms, faculty experts, and graduate student researchers to address the most vexing challenges that firms face today. Until recently, our faculty experts have all come from the disciplines represented in the College of Built Environments. But a fascinating project this year with the ARC member firm ZGF, which looks at the carbon implications of mass timber supply chains, has provided the impetus for ARC to bring together its first cross-college, interdisciplinary team of faculty advisors to tackle this complex research question.
ARC Fellow Chuou Zhang, a Master of Architecture candidate, leads the applied research project Biogenic Carbon Accounting Method for Upstream Forest Factors: A Regional Approach, in collaboration with the ARC firm ZGF. Her faculty advisors come from two colleges at the university, each contributing critical subject matter expertise to the project: Tomás Méndez Echenagucia, from the Department of Architecture, and Indroneil Gaguly, from the School of Environmental and Forest Sciences and associate director of the school's Center for International Trade in Forest Products (CINTRAFOR). A third faculty member, Hyun Woo "Chris" Lee, from the Department of Construction Management, serves as advisor-at-large.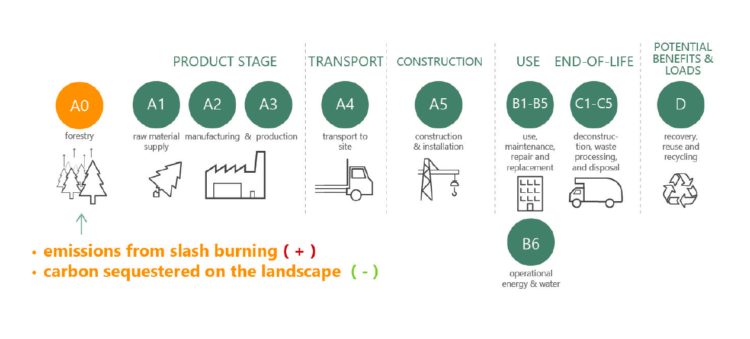 "Diving into mass timber's supply chains and their carbon implications is a topic as complicated as the forest ecosystems that wood comes from," wrote Jacob Dunn, an Associate Principal at ZGF and an advisor for the project. "Almost halfway through Chuou's ARC project, it's apparent how critical it's been to have an interdisciplinary team advise the research process. Indro's forestry and LCA [life cycle assessment] expertise provide the necessary supply chain background to complement Tomás' depth of knowledge around mass timber structural systems. This makes it much easier for two architects ([Associate Principal] Marty [Brennan] and myself at ZGF) to help guide the research to meet the needs of our profession."
Zhang reports that working with her interdisciplinary team has brought added dimension and insight to her research. "Having advisors from two colleges allows me to get a deeper dive into points of view and create a synergy between the fields of forest science and architecture that I wouldn't be able to do otherwise," she said.
For more information about this research topic, read Dunn's recent article Transforming Business as Usual in Wood Supply Chains.